Nadal withdraws from Wimbledon
Nadal在深思熟慮之下還是決定不參加溫布頓了
我想他的決定是對的
為了長久的網球事業
休息是為了走更長的路
才23歲嘛
好好療傷好好休息
接下來努力拿下4大滿貫中尚缺的美國網球公開賽
網壇有你才會更精彩
溫布頓官網新聞 http://0rz.tw/Ak4KN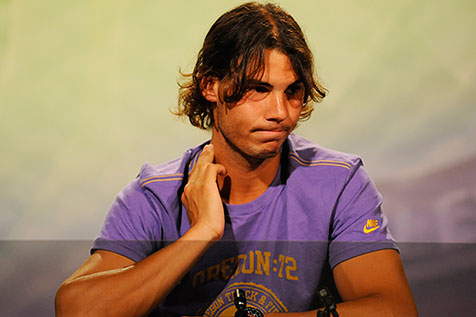 Rafael Nadal has announced he will not defend his Wimbledon title.
The world number one and top seed had said after the French Open that he would not play Wimbledon if he was not 100% and so it has come to pass.
"I'm here and I'm just not 100%. I'm better than what I was a couple of weeks ago but I don't feel right," Nadal told a packed press conference on Friday evening at the All England Club.
"To not play Wimbledon is one of the toughest decisions of my career."

After suffering a shock defeat in the French Open to Robin Soderling, Nadal received treatment on his knees in Barcelona and skipped the traditional Wimbledon warm-up at Queen's in an effort to be fit for The Championships. He was diagnosed with tendinitis in both quadriceps tendons as well as a small amount of fluid on the kneecaps.

"I tried everything. I didn't feel terrible but also not close to my best. When I enter a tournament my goal is winning and my feeling right now is I'm not ready to win.

"It's very painful for me but I can't play at the tournament this year. It's tough but it is what it is."

Nadal's absence will cause a reshuffle in the men's singles draw. Number five seed Juan Martin Del Potro replaces Nadal at the top of the draw. The 17th seed James Blake moves to line 65 to take Del Potro's position. Nicolas Kiefer moves to line 56 to take Blake's position and lucky loser Thiago Alves takes Kiefer's position on line 61.

Nadal revealed that he had been playing with considerable pain and he didn't know how long he would be out of tennis. But he said he expected to fully recover from his knee problems and that he would have a "long career".

"I played with some problems on the knee for the last few months. I've been making efforts to play week after week. The truth is that sportsmen always play with pain and don't know where the limit is, where you can get to. I think I reached that limit now.

"I will work very hard to comeback as soon as possible. One of the problems is I'm thinking more about the knees than what is happening on court and it's very difficult to play like that."

When Nadal was asked about his many fans and how disappointed they would be that he was not appearing at Wimbledon, the 23-year-old replied: "no more than me".

Nadal also said he was not concerned that his absence would open the door for Roger Federer to reclaim the number one world ranking. "If I lose the number one ranking I'm going to accept it like the four years I was number two and work hard to improve and recover."
退賽記者會1
退賽記者會2